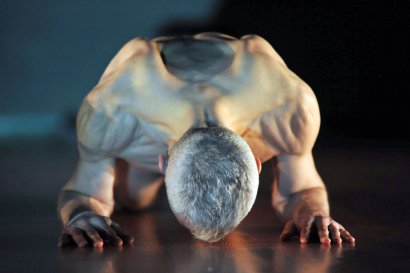 FindeOrte
In reality, my body is always somewhere else. It is connected to all the "elsewheres" in the world. It is elsewhere in the world. (Michel Foucault)
Inspired by the radio broadcasts The Utopian Body / Heterotopias by French philosopher Michel Foucault, the body is turned in choreography into a hybrid term. It is the source from where the world begins and connects us to it. At the same time, it is a place of longing, desire and fantasy, a source of utopia that clutters our view of the body in all its harsh reality and transience.
In FindeOrte, we unclutter this view and make space for both the real and utopian qualities of the body. The images and phantasms the body generates clash with its sheer "thing-ness". It is both a showpiece and an agent of all utopias– whether alone or in interaction with other bodies.
Our bodies debate the words of the French philosopher, set adrift on them and desire to them. They counter the reality of spoken language and mere presence. In search of the body's location, we find other places, many places, and all of them are the body.
Choreography & Performance
Jutta Hell & Dieter Baumann Music & Sound 
DaBao, James Blake Lightdesign: 
Jochen Massar Video
Dieter Baumann Set & Costume
Jutta Hell German Voice
Ute Pliestermann English Voice
Victoria Pickett

Foto: Gerhard Ludwig
Premiere: 13th April 2012
Uferstudios Berlin
A Tanzcompagnie Rubato production, support by Regierender Bürgermeister, Berlin – Senatskanzlei – Kulturelle Angelegenheiten and Tanzfabrik Berlin, in the frame Rahmen of "Tanz Hoch Zwei".