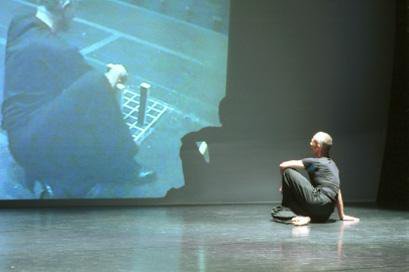 zukunft_erinnern_reloaded
An Attempt to Reflect Memory and the Future in Dance
In the solo zukunft_erinnern_reloaded, Dieter Baumann presents a completely new version of repeatedly reworked material from the series ZUKUNFT_ERINNERN, directed by Jutta Hell.
The first part of the series (2003) ZUKUNFT_ERINNERN_Baumann/Bohner • solo with video fragment was followed in 2005 by EIDOS_TAO, an arrangement for five Chinese dancers, as well as ZUKUNFT_ERINNERN 2 • a piece for the Bauhaus stage that same year.
The body of the live dancer enters into a gripping dialog with large-scale video images of material from previous versions of the piece projected onto the stage. The attendant body converses with the virtual bodies and movements: overlapping and revealing mutual influences and citatory references, but most of all also the differences in the specific quality of the movements and bodies.
Superimposed past stages of development condensate into a kind of 'history of the piece'. What emerges is the realization how the past influences the creation of the new and how in this process the rudimentary beginnings of future possible paths are already prescribed.
zukunft_erinnern_reloaded. A murmuring, heartbeat electro sound accompanies this journey into the yesterday and tomorrow of dance. A virtual-real dialog between life and earth, time, space, form and harmony.
Directed by: JUTTA HELL
Choreography, Costume, Video: JUTTA HELL, DIETER BAUMANN
Dance: DIETER BAUMANN
Music: LUTZ GLANDIEN
Lighting: JOCHEN MASSAR
Video Material: COSIMA SANTORO
A Tanzcompagnie Rubato production, made possible by the Reigning Mayor of Berlin, Senate Chancellery – Cultural Affairs.