upcoming
 June 2018  
     
Eadweard´s Ear Muybridge extended /
Frankfurt editions

Penelope Wehrli (CH), Tanzcompagnie Rubato (Berlin), Gerriet K. Sharma (Graz),
Joa Glasstetter (Bergen)
Fri. 22.06., Sat. 23.06.2018
DANCE _ CONCERT _ INSTALLATION




*Duration

: about. 2,5 hours, multiple entries possible, € 19 / red. € 9 / € 7 for f.f.m. members.
Mousonturm-co-production
Location
Saal
Waldschmidtstraße 4, 60316 Frankfurt am Main
Konzept, künstlerische Leitung, Raum: Penelope Wehrli / Notationssystem, Mediensteuerung, Entwicklung, Programmierung: Joa Glasstetter / Komposition, musikalische Leitung: Gerriet K.Sharma / Choreografische Entwicklung, Tanz: Tanzcompagnie Rubato (Dieter Baumann, Jutta Hell) / Musik: Stephanie Hupperich, Alejandra Cardenas, Alexander Nickmann / Technische Leitung & Entwicklung: Thomas Koch / Künstlerische Produktionsleitung: Anna Bergel / Techniker*innen: Emma Juliard, Bastian Orthmann / EADWEARD´S EAR ist eine Produktion von peninsula.ink in Koproduktion mit dem Festival Neue Musik Rümlingen und dem Künstlerhaus Mousonturm, Frankfurt am Main. Gefördert durch den Hauptstadtkulturfonds und unterstützt durch TESLA Berlin e.V.
---
March - May 2018
Figures in a Landscape

An international, interdisziplinary project between fine art and dance - choreography

Premiere in China / Shanghai May 18th. - 12018_ 6.30 pm
and 19th. 2.30 pm 
Power Station of Art Shanghai
Premiere in Berlin March 29th.  2018 _ 6.00 pm
Gemäldegalerie im Kulturforum / Sonderausstellungshalle 2
Tickets at WeChat  Account  Power Station of Art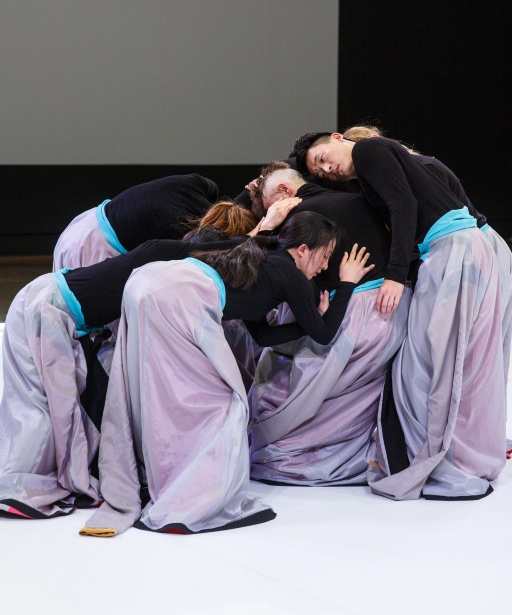 Figures in a Landscape is a meditation on living painting and moving sculptures, a dialogue between visual art and dance, between European and Chinese culture.
Starting point were the costume designs of the British visual artist Jonathan Baldock, inspired by such diverse references and influences as Chinese opera costumes, medieval monks' cowls or the abstraction of European modernism.
With their choreography, Jutta Hell and Dieter Baumann add an extra dimension to the materiality of Baldock's costumes. They are repeatedly arranged differently on the bodies of the eight dancers, in the movement, through the dance, and receive an independent rhythm in the lines, form and color.
The museum as place of the performance, becomes an important part of the perception and reflection of the piece.
Figures in a Landscape
Total running time: 60 minutes, no intermission
Artistic directors: Jutta Hell, Dieter Baumann
Direction, Choreography: Jutta Hell
Costum, Sculptur: Jonathan Baldock
Dance, Choreography: Dieter Baumann. Alessandra Defazio, Er Gao, Bing Luo, Carlos Osatinsky, Anja Sielaff, Wang Zhen Jun, Li Ling Xi
Light: Fabian Bleisch
Sound: Da Bao
Production management: Inge Zysk, Raquel Moreira

Communication: k3 berlin
Photos: Dirk Bleicker
Produktion: Tanzcompagnie Rubato, funded by Hauptstadtkulturfonds, in cooperation with Stiftung Preußischer Kulturbesitz_Staatliche Museen zu Berlin and Powerstation of Art, Shanghai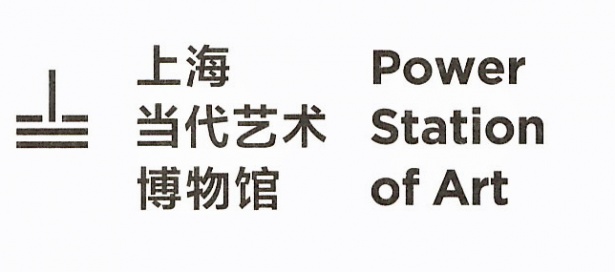 ---
April 2018
SOS_ Gerhard Bohner_ Tanzcompagnie Rubato

 Tempo: a tender slowness

 Reconstruction / Passing on 2018
A TANZFONDS ERBE project
  April 26. - 28. 2018 _  8.00 pm
Akademie der Künste, Berlin
Pariser Platz 4, Blackbox
Tickets: 13,-  Euro / 7,- Euro reduced
and at the box offices of Academy der Künste
 Pariser Platz 4, 10117 Berlin,
daily 10am - 8pm

and
 Hanseatenweg 10, 10557 Berlin,
 daily 10am - 8pm

Gerhard Bohner's late work is the essence of his exploration of the legacy of pre-war modernism, in search of a new language that transcends time. The result are masterpieces of dance art. Throughout his life, a pioneer who has not established himself in any aesthetic habit, Bohner created with his latest work SOS a lesson of accuracy and reduction, permeable to theatrical composition.
The dance critic Irene Sieben wrote on the occasion of a resumption of SOS in 1999: "... The reunion with Bohner's work and his spiritual dimension is still groundbreaking seven years after his death." The pure doctrine. Every young choreographer should listen to, to distinguish black from white to learn to fight for the quality of art ... "(ballet international / dance aktuell 1/2000)
Jutta Hell and Dieter Baumann pass on the choreography they created  for them in 1991for the first time to the next generation of dancers. A TANZFONDS ERBE project.
SOS
Total running time: 65 minutes, no intermission
Choreography: Gerhard Bohner (1936 - 1992)
Artistic directors, passing on: Jutta Hell, Dieter Baumann
 Dancers: Niannian Zhou, Xuan Shi
Speaker: Knuth Irche
Music / Sound: Ronald Steckel
Set Design: Ursula Sax
Stage: Norbert Stück
Photo: Klaus Rabien

Texts taken from the book "herzzero" by Franz Mon 

Funded by TANZFONDS ERBE – an initiative by the German Federal Cultural Foundation, in cooperation with Academy of Art, Berlin. A Tanzcompagnie Rubato production.
---
---
The photo book
30 years Tanzcompagnie Rubato

Book release:

September  2015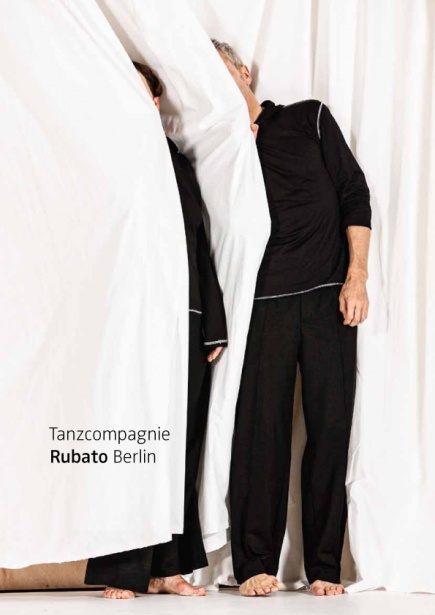 Published by Jutta Hell und Dieter Baumann
Layout: Dirk Bleicker
Editorial: Sven Neumann


With original contributions from  
Dr. Johannes Odenthal and Jun. Professor Dr. Susanne Foellmer




---